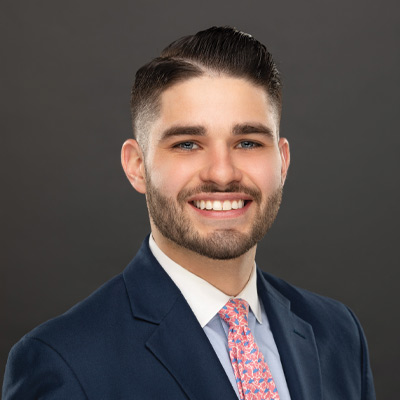 What contribution have you made in your career that is the most meaningful to you?
The most meaningful contribution I have made in my career was the time spent helping customers navigate the pandemic. In a time of extreme uncertainty that was felt across the entire state, it was an extremely humbling and rewarding experience to play the role of financial first responder. We worked around the clock to process PPP loans and provide other assistance for customers who were concerned about their financial future and ability to continue operating their businesses and paying their employees.
What is your greatest career accomplishment?
My greatest career accomplishment is leading teams responsible for managing the PPP process throughout the bank. The process was new to everyone and became even more difficult to navigate as additional funding rounds were open
concurrently with forgiveness processing. Additionally, United Bank was in a unique situation. We were onboarding customers and lenders associated with two mergers and expanding the bank into the new geographical territory. Our
team provided consistent guidance and direction to lenders across the entire footprint and worked within various specialized areas responsible for efficient processing. We processed more than 100 paper applications daily at times and
eliminated any application or technical issues that might stand in the way of a borrower and the funding they needed.
I am so grateful for the trust that the bank put in me to help lead us through this program. It allowed me to truly impact our entire business while building connections and relationships with PPP team members and lending teams across West Virginia and the bank's footprint.
What motivates you to work?
I am motivated to work, specifically in banking, because our industry is the financial backbone of the communities we
serve. As part of the commercial lending group, I understand that my team's work helps to drive economic activity within
the Huntington market. I take ownership of that responsibility when I come into the branch each day to work.
What is your favorite thing about living in West Virginia?
My favorite thing about West Virginia is its natural beauty. Time tends to move a bit slower here than in other parts of
the country, giving West Virginia a unique, peaceful charm that makes it a great place to build a family and career.
Who is the most influential person in your life, and how have they influenced you? Why has this person been so
important to you?
The two most influential people are my wife and mother. They are the most important women in my life. Each of them has always been there at critical points in my life, pushing me to be the best version of myself and allowing me to unlock my full potential.
What is a fun fact about yourself?
I love to camp! My wife, our two dogs and I have developed a true love for the outdoors and spend as many weekends as
we can at our wonderful state parks here in West Virginia and other destinations across the east.
What is some advice you would give your teenage self?
The best advice I would give my teenage self would be to trust my gut and be confident. As I have continued to grow, have more opportunities, and work with many great entrepreneurs in Huntington, I have learned that success is truly defined by the individual and that we set our own limits for ourselves. Those who continue to push outside their comfort zone with confidence understand that failure is just an opportunity to learn. It is OK to trust yourself and learn from your mistakes and successes!
What are you most excited about for the future?
I am most excited about the opportunity to be in West Virginia, continuing to build my career and family. I am grateful to
have an incredible company behind me in United that has challenged me to be my best and provided me opportunities to build on my skills and become a solid banker and community partner. I can't wait to continue to build on these skills in the place I've called home for nearly all of my life. United is a strong, growing company that has seen my potential for the
past five-and-a-half years. The sky is the limit!