The COVID-19 crisis has impacted the commercial real estate ("CRE") market and the greater economy like no other crisis in recent memory. While the West Virginia CRE market has felt the effects, as with many other crises, the West Virginia CRE market has not seen the same level of downturn that has been felt on the national level. Regardless, West Virginia CRE lenders should prepare themselves for significant changes in how business is done in every sector of the CRE market. Being cognizant of what is transpiring with CRE will allow lenders to more accurately anticipate changes in their portfolios and enable them to make better-informed lending decisions.
The Overall Impact
On a national level, CRE has historically lagged the broader economy by several months in terms of experiencing the effects of a downturn, but a report by Deloitte shows that this pandemic started impacting commercial real estate much sooner. All CRE sectors have felt the effects of COVID-19; owners, brokers and developers have all been adversely affected.
Before the pandemic, the CRE industry was in a strong position. Deloitte's 2020 commercial real estate outlook, which was based on a summer 2019 global survey, found that capital availability was expected to increase in 2020 and that U.S. CRE markets continued to maintain global attractiveness. However, the pandemic caused financial markets to decline sharply, and the CRE industry was immediately affected.
Property owners nationally were faced with short-term liquidity issues due to rent relief requested by tenants in industrial, office and retail spaces. Many developers and their timelines have been impacted by a shortage of materials, stay-at-home orders and a lack of PPE. More recently, the pace of construction has been affected by social distancing and cleansing requirements.
Sector by Sector
With respect to the multifamily market, MarketWatch reported in April that more than half of low-income renters lost their jobs because of the shutdowns. A National Multifamily Housing Council poll found that 31% of renters had not paid their rent in he first week of April. Many in the media are predicting mass evictions in metropolitan markets in the near term.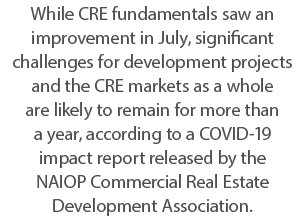 The CARES Act took some steps toward addressing housing insecurity, but many of those benefits have expired or are set to expire. Unemployment subsidies, for instance, delayed the impact of unemployment on renters' ability to pay. Since unemployment compensation benefits and eviction moratoriums have ended, defaults are likely, especially in low-income housing, unless Congress is able to negotiate a new relief plan. By comparison, median and higher-end properties in West Virginia do not appear to have been adversely affected to any significant degree as of the date of this article. For example, the largest multifamily complex in the Kanawha Valley was experiencing record occupancy numbers in July and the owner had seen no delinquencies.
The entire retail sector has also been adversely affected by COVID. Major retailers have shuttered stores and filed for bankruptcy protection. The surviving retailers and brand stores face a multitude of short- and long-term challenges. Supply chain, consumer demand, labor force, health and safety, and cash flow challenges abound. The new landscape for the retail sector is likely to include permanent changes in consumer behavior. For instance, many consumers pre-pandemic had turned to digital shopping. The pandemic accelerated the shift from foot traffic to e-traffic. Many Americans are even turning to e-commerce for groceries and other essentials.
COVID has changed the way many of us work. Some prognosticators have even gone so far as to ask if we need offices. A study by Venturebeat found that as many as 75% of employees prefer to work from home out of caution and/or convenience. A third of the workforce is now comprising millennials who value flexibility in when and how they work. Employees are also able to match some of the same technologies at home that were previously only found in the workspace. So long as workers' productivity from home can match their productivity in the office, many businesses may look to downsize their office utilization to save on overhead costs.
Hospitality is among the hardest-hit sectors. The hotel industry has been affected by lengthy stay at home orders, an unwillingness to travel, and changes in company travel policies. A study by McKinsey and Company found that in early May, occupancy was less than 15% for luxury hotels and around 40% for economy hotels. They predicted that economy hotels would have the fastest return to pre-pandemic levels because they are better able to tap segments of demand that remain relatively healthy despite travel restrictions, such as long-haul trucking and extended stay guests. It also found that economy hotels, based on operating economics, can stay open at lower occupancy rates than upscale chains.
Looking Ahead
While CRE fundamentals saw an improvement in July, significant challenges for development projects and the CRE markets as a whole are likely to remain for more than a year, according to a COVID-19 impact report released by the NAIOP Commercial Real Estate Development Association. A great deal of uncertainty associated with COVID-19 remains, and we are likely to see long term changes in the structure of the CRE business. COVID-19 has affected the way public space is utilized and has resulted in a new normal. It is difficult to predict what the full impact will be on CRE, but there are certainly some changes we can anticipate.
At least in the short run, expect pressure on rents as they are negotiated and adjusted for commercial tenants who have experienced shortfalls due to mandated work stoppages. Although retail spaces are re-opening, expect them to experience decreased traffic for months. Hospitality will continue to see the effects of COVID-19 until Americans are permitted, and feel safe, to travel. Remote work may be here to stay, decreasing the need for office space. The use of virtual property tours will increase. Borrowers' hesitancy to attend in face closings will likely remain.
West Virginia lenders face significant challenges in assessing the impact of COVID on CRE. Existing portfolios are being monitored closely, and new lending decisions involve increased scrutiny. Special Asset divisions may soon find themselves overwhelmed. Despite these challenges, CRE will recover and lenders that weather this storm effectively will find ways to effectively underwrite CRE opportunities in the near and long term.
Matthew Kingery is Of Counsel with Lewis Glasser, PLLC, in Charleston, West Virginia. Matt devotes his practice to commercial transactions, lender representation, commercial development, distressed assets and real property matters with an emphasis on title, acquisitions, sales and financing issues. Matt has been recognized for his work in the legal industry and community, and has received numerous awards, including being selected multiple times in Super Lawyers® in the practice area of real property law; named the 2010 West Virginia State Bar Young Lawyer of the Year; honored as a recipient of the 2009 Generation Next: 40 Under 40 award by The State Journal; and named a Young Gun by the West Virginia Executive in 2017. He can be reached at mkingery@lewisglasser.com.