Alan Brill, longtime CEO of Capon Valley Bank, retired in December 2020. Recently, WVBA had the opportunity to visit with Michael McDonald, colleague, heir-apparent, and friend of Alan's to talk about Alan and his contributions to Capon Bank and the local banking industry.
Where is Alan from?
He grew up in Hampshire County, and has lived on the same farm where he grew up all of his life.
When did Alan begin his banking career?
He started here at Capon Valley Bank 47 years ago — in 1973 — working part-time as a teller, and eventually moved up to CEO. It's an astounding career trajectory really if you think about it. I believe that it says a lot about his character and philosophy about doing what needs to be done and looking for the opportunity to learn and grow. Wherever there was a need, he stepped in and filled it.
Tell us about Capon Valley Bank?
The bank started in 1918 as a community bank. We joined a holding company with another bank back in 1987. We've grown over the years from our one main office to five branches; three in West Virginia and two in Virginia.
If you could describe Alan in three words?
Well, that's tough. There's a lot of wonderful words that come to mind when you think about Alan. But for a start, I would describe him as loyal, steadfast and intelligent. He's a sharp guy. And determined.
He was always the constant activist for community banking. He wants community banks to be successful, and he always worked in that direction. He had a strong belief that community banks keep their communities healthy and thriving.
Alan was always willing to be a part of what was happening; he was never a spectator. His engagement was remarkable.
After 45 years at Capon Valley Bank, what are a few things that stand out in Alan's career?
Since he partially retired, he'd often comment about how much he enjoyed his career. He enjoyed the camaraderie of the bank, from coworkers to customers.
It wasn't just a job — it was his life, which is remarkable. We have a really fun group; there's a lot of good humor in the bank. You know, over the years, people leave for other career choices, people retire, and of course, their contributions linger, but in Alan's case, his heart and soul have been here for so long that I believe that he will leave a culture behind that we will work hard to keep.
What are some of the things that stand out about Alan's career?
In the 45 years that Alan worked here, he has been the CEO for 20 of those years. He has guided us through some difficult years in a very steadfast way. There were some economically challenging years for community banks, but Alan kept his head down and went to work. There's a lot to be said for that. Many others may have reconsidered their choice of careers — in fact, many did. But Alan never wavered, and as a leader, that was key. He was steady, so we were steady.
Alan has served on the boards of the Community Bankers of WV and the WV Bankers Association, as chairman of both organizations. He also served a three-year term as board member of the Federal Reserve Bank of Richmond from 2011 to 2013. He has been active in the Chamber of Commerce for Hampshire County, Hardy County Community Foundation, Region 8 Planning & Development Council, and as a board member of Cacapon & Lost Rivers Land Trust.
We were in Washington, D.C. a few years back for a meeting. I was driving and Alan was the navigator. What struck me was that as he was navigating, it wasn't just about the next turn or the next traffic light; it was about the next two. I was struck by how easy it was to drive through unfamiliar territory when you have someone who is good at navigating to guide you through. Alan can guide me through anything, and I suspect that I am not the only one who feels that way about him.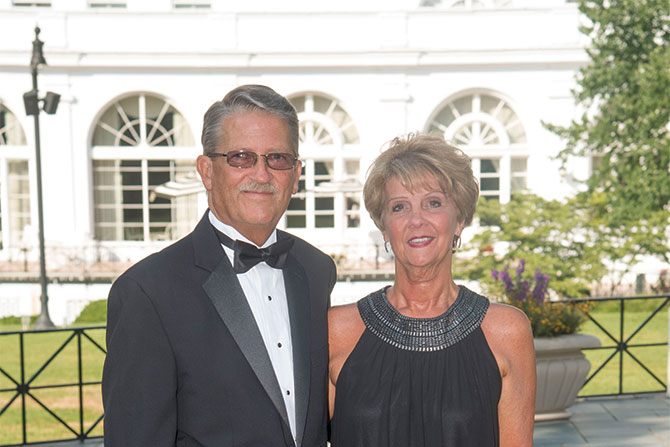 What have you learned from Alan?
When times get tough, I will emulate Alan. He's a great example of a leader for me. There's strength in just showing up and doing the job. I think one of the things that stands out about Alan for me is that he is present. Wherever he is, there he is. When he engages with anyone or any situation, he is focused and present, which is a gift, and people know it.
Tell us about Alan's family?
He is very much a family man: two sons, a daughter, four grandchildren. A big highlight of his life is those grandkids. He loves to be with them. He also loves Sunday family dinners.
He likes to be active outdoors. No matter how busy things were at the bank, he always had time for his family. I need to emulate that. I don't want to miss anything, and Alan was a great mentor when it came to the ability to know what was important and when. I think that is probably the biggest testament to Alan Brill — he has the ability to recognize what is important and the strength of character to go all in. Those of us that worked with him knew it, and so did his customers.