In 2022, the West Virginia Bankers Association established a Young Banker of the Year Award. This award recognizes the achievement, performance and community and industry involvement of a West Virginia banker who is 40 years of age or younger. Each candidate is nominated by a sponsor within their bank, supported by the application process highlighting their accomplishments and credentials. This year, we were given the opportunity to select from eight outstanding candidates. Nominees were reviewed by the Board of Directors through a blind selection process.
The 2023 Young Banker of the Year recipient, Deborah L. Swiger has forged her own path at Citizens Bank of West Virginia while continuing to help her teammates, customers and the company and industry thrive and prosper.
In your career, what contribution have you made that is the most meaningful to you?
Throughout my career, I've tried to create efficiencies for various tasks to make daily processes easier and more effective. I think, ultimately, my greatest contribution has been to create the resources to support coworkers in their projects to find success. Whether that's by creating step-by-step instructions, simplified forms, leading group discussions, or providing training — sometimes it's just modifying a process or providing troubleshooting help. My goal has been to improve the experience for my coworkers to make everybody's life go a little bit smoother. I think that those small incremental changes have been my biggest contribution.
What motivates you to work?
I like to improve things wherever I go and enjoy seeing the results. Supporting others in finding success and working on team challenges is something I seek out. There is no better feeling than when a goal has been accomplished. I feel my efforts can have a positive impact on coworkers, customers and even the community.
What is your favorite thing about living in West Virginia?
My favorite thing about living in West Virginia is the many opportunities to enjoy nature. I really like outdoor activities, and we're surrounded by beautiful mountains and rivers. All kinds of peaceful moments are to be found in nature within just a matter of minutes. It can be hiking, camping or taking photos; there's a lot of variation in outdoor activities that are available.
Looking back on the last five years of your career, what's the highlight?
Not long after moving into my current role, I had the opportunity to lead a team of very talented individuals in the bank through a two-branch acquisition. We had previously completed a core conversion where I was a heavily involved team member, and then soon after, we made the acquisition where we brought in the other branches. I led the team on that acquisition to not only do the work leading up to acquiring the branches but also to welcome the new staff and customers to Citizens Bank.
This acquisition took around six months of lead-up and preparation, identifying the files from the bank branches that we were receiving, all the testing and the actual conversion. Finally, following up to make sure everything went the way it was planned. It was a major project for a lot of people. I was very honored to be given that trust in leading the team.
What is your favorite part of working in a bank?
My favorite part is the opportunity to connect not just with coworkers or customers but also with the community in general. Being part of the bank team is very rewarding in itself, but we also are very involved in our community. We do a lot of corporate sponsorships: education, youth sports and various charities. I'm always very proud to represent Citizens Bank whenever we're part of those things — giving volunteer hours or going to the event. I really enjoy the feeling of community.
What is your favorite way to relax outside of work?
I like to spend time with my daughter, Mackenzie, mostly out in nature, hiking and camping in state parks. We like to travel, go to new places, try new foods and have fun new adventures — places like science museums are a favorite, where there's the learning aspect and the fun aspect.
Who is the most influential person in your life, how did they influence you, and why he or she is important?
That would be my dad. He spent his whole life as a farmer who raised beef cattle and as a coal miner. Both of those jobs are very hard work, and he did both very well. He never complained that it was too much or that he was tired. He kept going every day. He showed me that hard work, dedication and never giving up create opportunities that lead to success. He led by example and taught me that holding yourself to that high standard and maintaining a strong work ethic pays off. My dad believed in me and that I could achieve great things. I think that pushed me to find success.
What is some advice you would give to those thinking about going into banking?
I would encourage them to go for it. Banking was not my original career plan, but it quickly became my new passion and has been a very rewarding career for me. I'm very thankful for that. I think banking can actually be a lot more fun and fulfilling than I realized before I got into this industry. It can be very interesting; it is more than just running the numbers. Don't be afraid to start at an entry-level role because, a lot of times, that's how you get your start, and that can quickly lead to leadership roles.
What are you most excited about for the future?
I'm excited to see how banking will continue with the many innovations that we're seeing. There's been a lot of change in recent years. Opportunities abound with different products that are being developed, and that's something that will definitely help the customer and shape how employees function within a bank. I enjoy digital products, and the digital transformations that are going to be possible in the near future are in my area of the bank. I'm really looking forward to the exciting changes that will bring.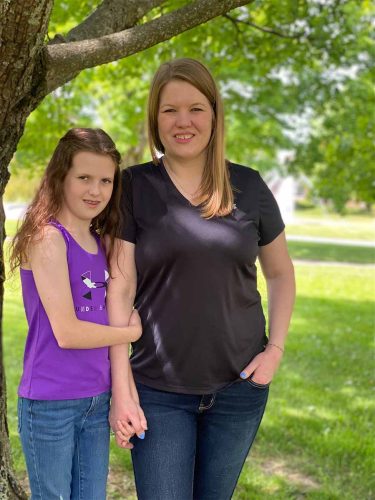 Deborah Swiger serves as Senior Vice President & Chief Operations Officer and has been employed at Citizens since 2008. She oversees bank and branch operations. She earned a B.A. in History and B.A. in Sociology from Davis & Elkins College and is a graduate of the West Virginia School of Banking and the Lloyd P. Calvert Graduate School of Banking.
Deborah volunteers as a Girl Scout assistant troop leader and with Relay for Life. She participates with the Community Bankers of West Virginia Leadership Development Group and is a member of TopNet — a collaboration of West Virginia bankers. Deborah was also recently appointed to serve on the CSI NuPoint Core Customer Advisory Board with nine other bankers across the country.